Vewior Home Air Purifier for Large Room True HEPA Air Filter Cleaner with Sleep Mode 5 Timer 3 Speed Adjustable
Regular price
$139.99 USD
Regular price
$169.99 USD
Sale price
$139.99 USD
Unit price
per
Sale
Sold out
[High-Efficiency Air Purifiers] Breathe in the fresh air with our large room air purifiers that cover an area of up to 1730 sq. ft in just 1 hour. Our air purifiers refresh the air 5x per hour and feature a powerful 3-stage filtration system consisting of a pre-filter, HEPA filter, and activated carbon filter.

[3-Fan Speed Air Purifiers] This air purifier offers three levels of air flow intensity for you to choose from - low, medium, and high - based on your air quality needs. Not sure which level to choose? Our Auto Mode feature can automatically adjust fan speed based on real-time air quality measurements. Experience the difference with our top-of-the-line air purifiers.

[Air Quality Display & Child Lock] Our Smart air purifiers feature a built-in air quality sensor that displays real-time PM2.5 levels on the air purifier's LED panel. The thoughtful air purifier's child lock design can avoid your baby or pet from touching the buttons.

[Ultra Quiet Air Purifier & 5 Timers] Enjoy peaceful and undisturbed moments with our ultra-quiet air purifier. Operating at ≤15dB, it ensures a serene environment for your bedroom. Choose from 5 timer options (2/4/6/8/12H) to automatically turn off the air purifier when you sleep or go out. LED panel light also turns off automatically, creating a tranquil atmosphere for sweet dreams. Experience fresh air without any noise or interruptions.

[Official Certifications for Air Purifiers] VEWIOR air purifiers have official certifications such as California Air Resources Board (CARB), FCC, ETL, etc. These certifications ensure that our air purifiers are safe and effective for use in homes with kids and pets and for families affected by air pollution. Our air purifiers are especially helpful during wildfire pollen season, providing a healthier living environment for millions of households.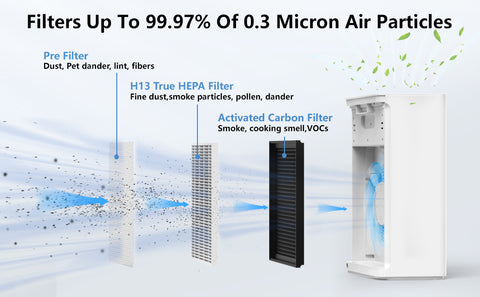 Share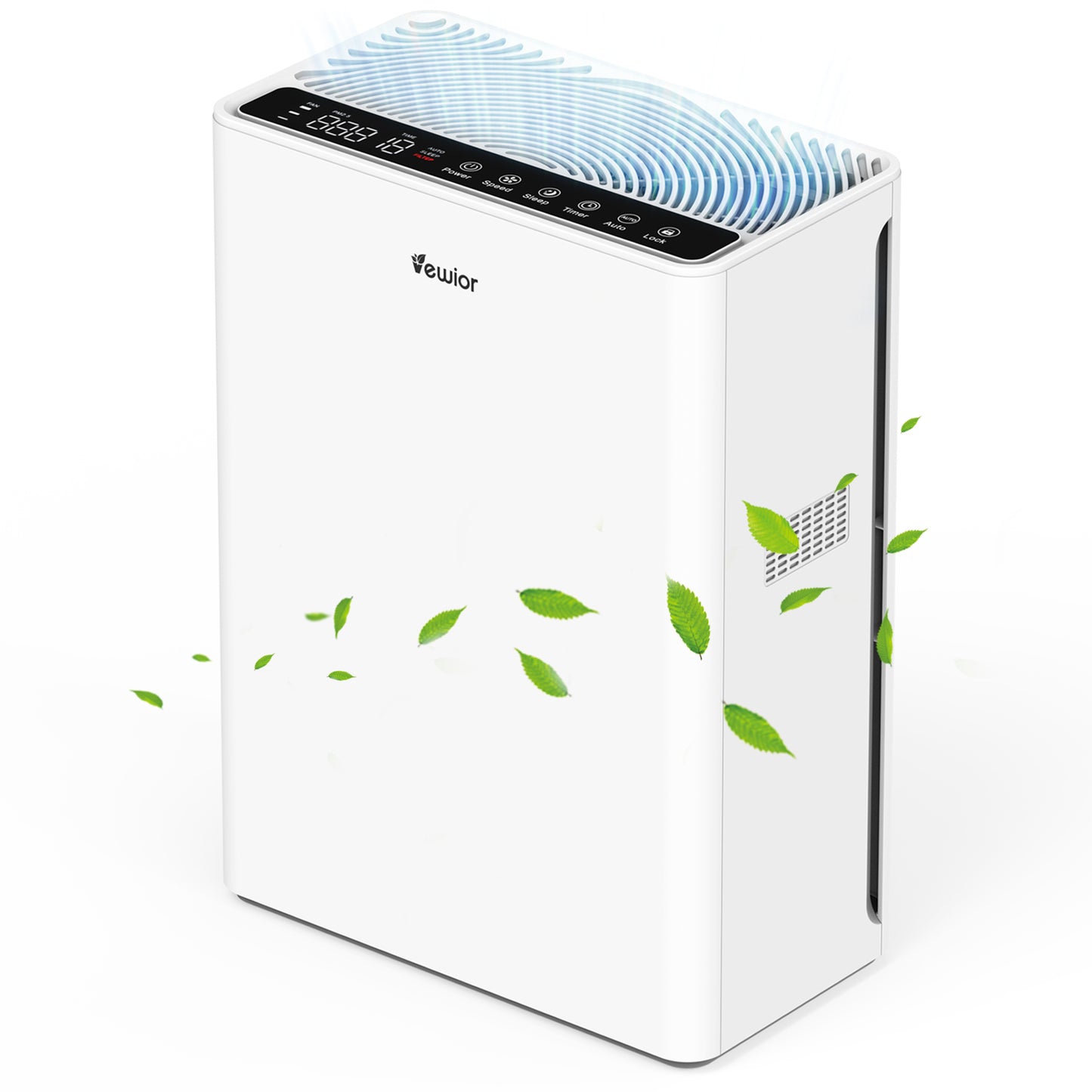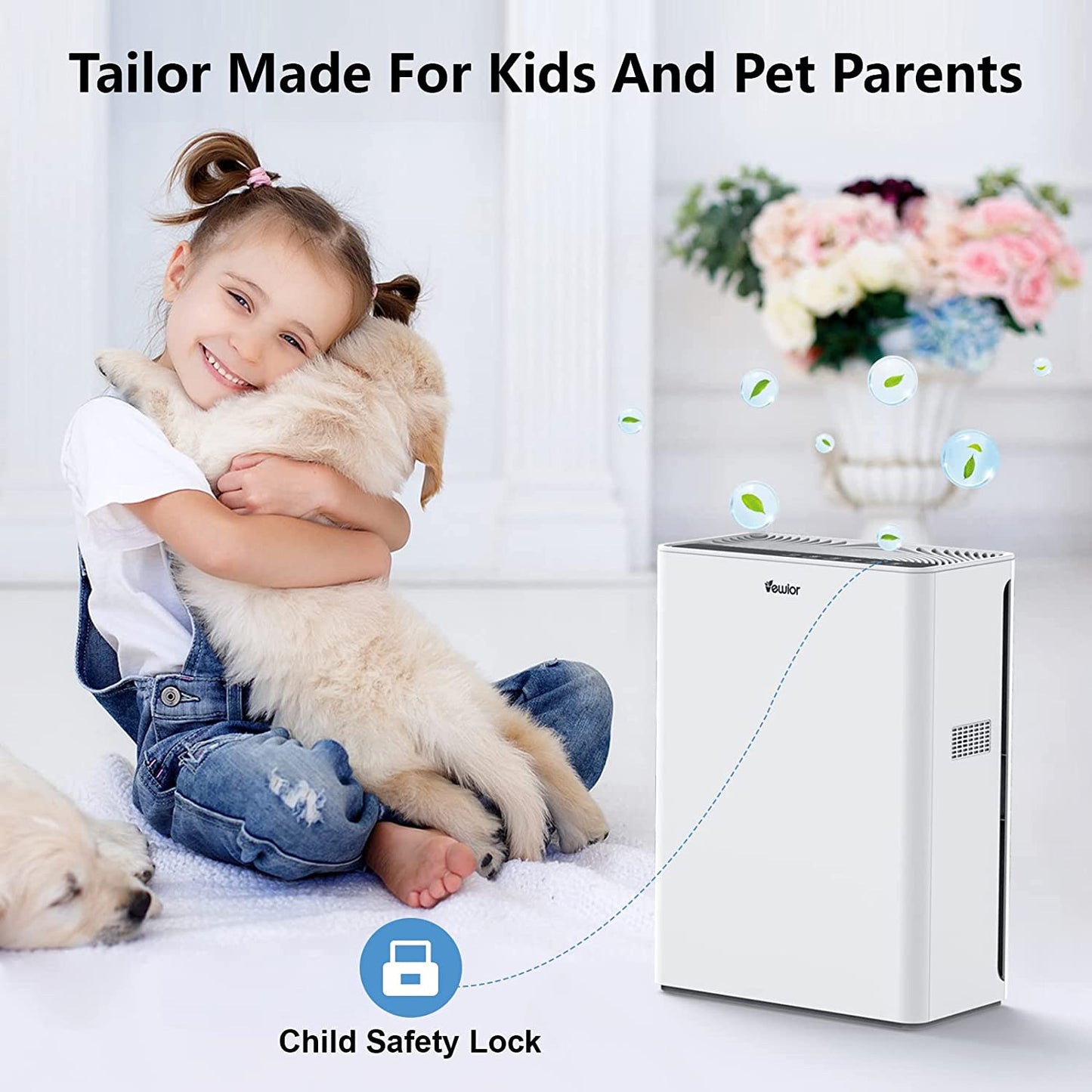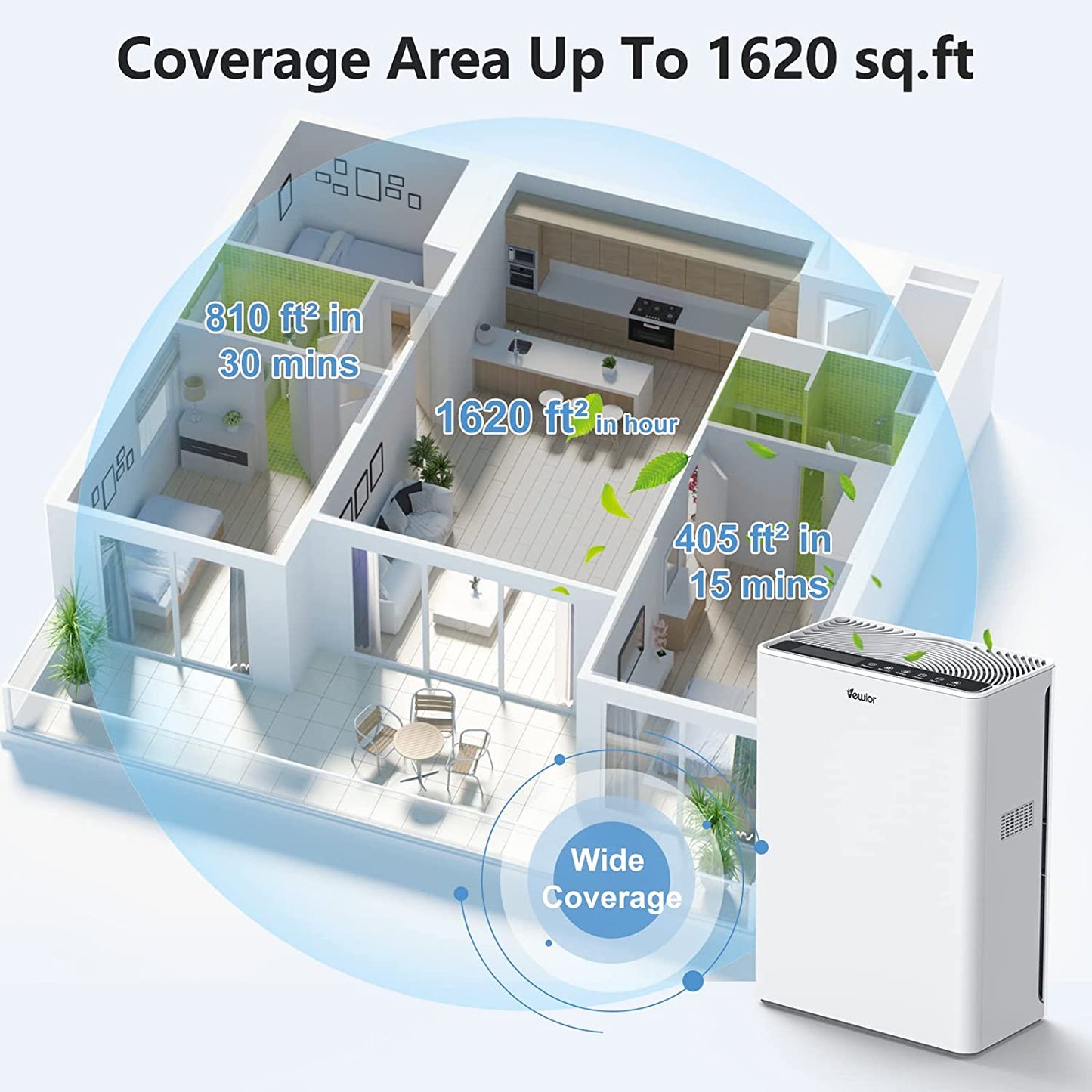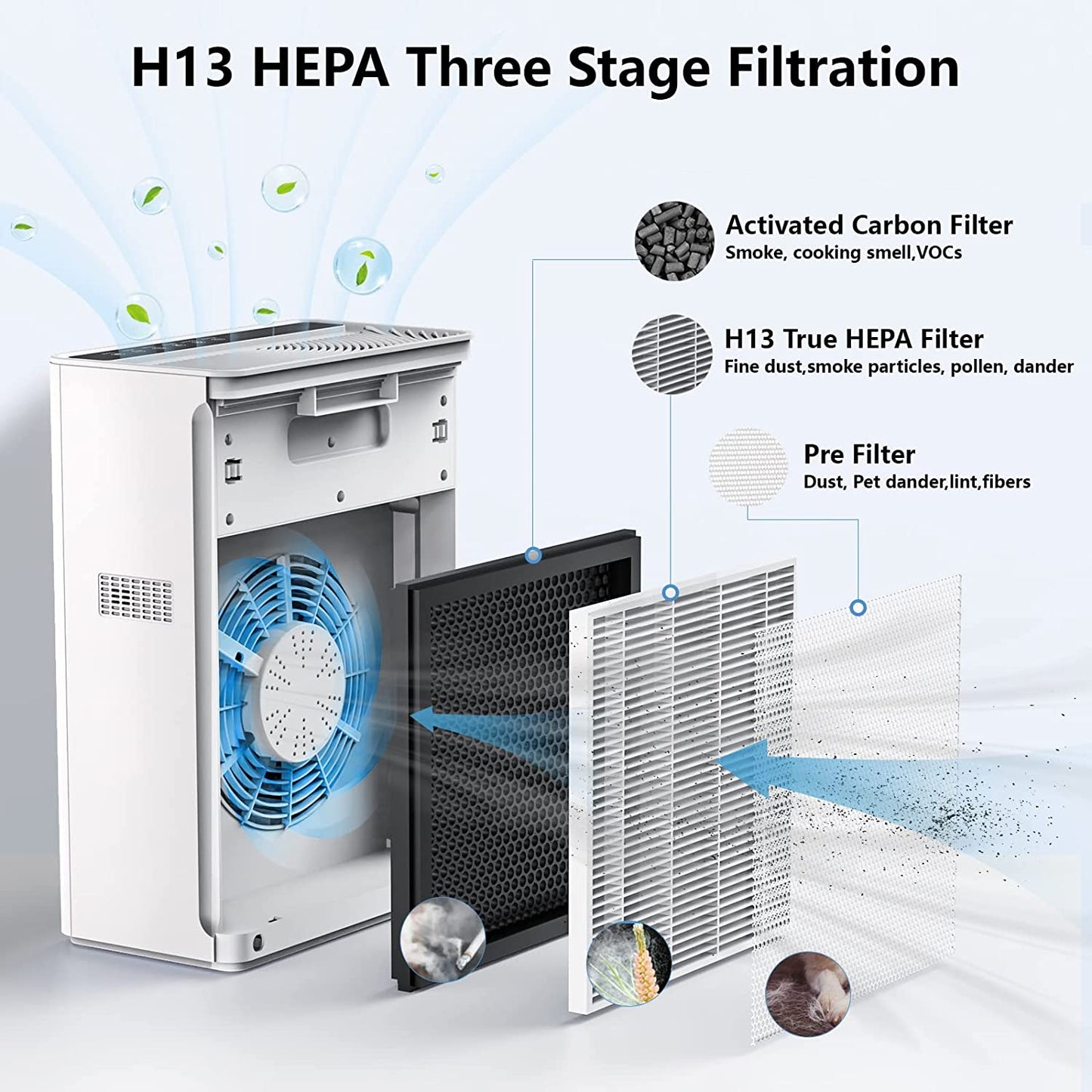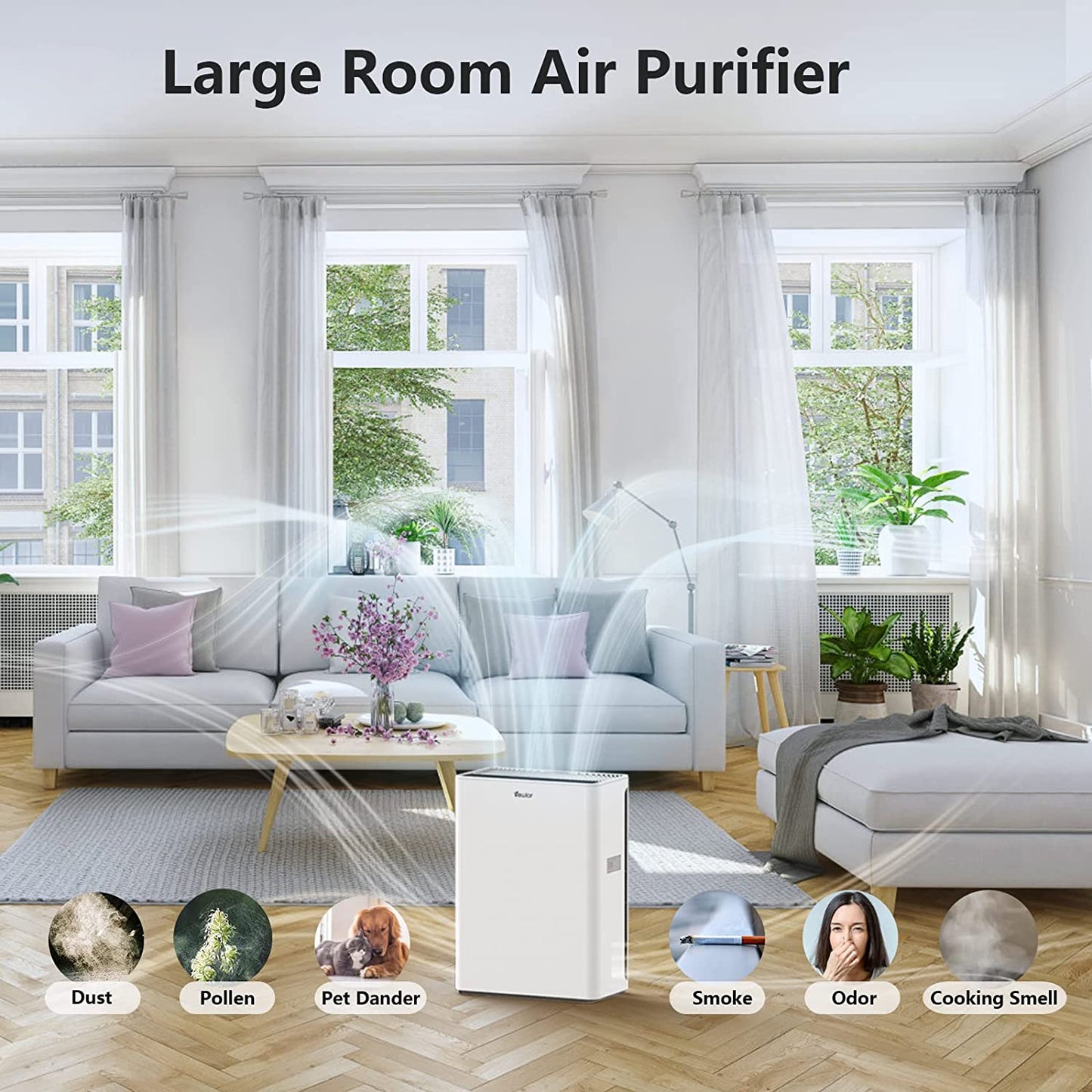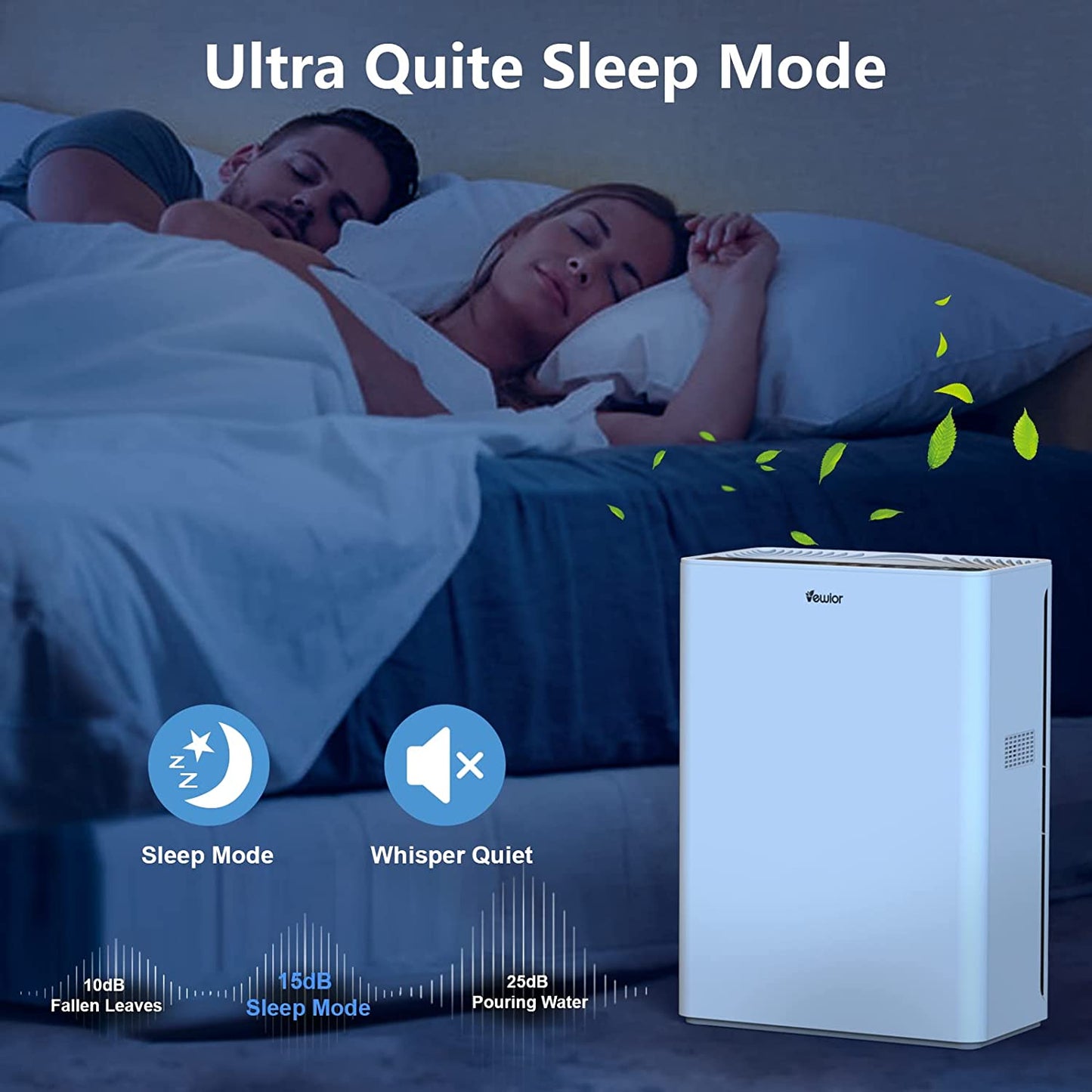 Big enough to help filter the air, but small enough to fit in with the Decore.
I got this Home Air Purifier for Large Room True HEPA Air Filter Cleaner with Sleep Mode 5 Timer 3 Speed Adjustable, Activated Carbon, Great Smart Silent Air Cleaner for Pollen, Smoke, Dust, Pet Dander for my living room. I liked the size, I found it was not so large as to be an eyesore, and the noise level did not even register with me. I found the operation nice and quiet. I like the easy access to the filter, for cleaning purposes. I liked the instruction manual as I could understand how they outlined all the functions available. I have a dog and a cat, so I really like that it helps filter the air in the living room.
Quiet but seems powerful
This unit isn't overly large but it seems highly efficient.
It is easy to set up - you just pop off the back, pull the HEPA filter out, remove it from the bag, and put it back again.
Plug it in and turn it to "automatic mode" and you won't even really realize that it's running. What are the nice things about this air purifier is it detects the quality of the air and automatically adjust the fan speed based upon the quality of the air. So those times when things are getting a little "smelly" it kicks in the high gear to be able to clean out the air.
It's already very quiet and I can certainly sleep around it with it in automatic mode, but the sleep mode is even quieter. If your sound sensitive you can turn this on sleep mode at night time and you'll never even know it's there. It also seems to be very energy efficient so it won't break your electric bill - and of course, you get all the benefits of having cleaner air around you.
It is a bit boxy, so the aesthetics puts it at closer to looking like a 80's in window air conditioning unit rather than a sleek modern device - but I don't mind the look considering it increases the quality of the air I'm breathing.
Less dust and no sound
I have this in my living room and I never hear it running. But I have noticed less dust in the house.
Noisy
I like this bet I like it in another room that I am not in it becomes annoying.
cleans the air in one hour, does do what it says...
easy to use, well worth the money, I notice the difference, after a hour of use,