VEWIOR 4.5L Top Fill Cool Mist Humidifier and Diffuser 2 In 1
Regular price
$75.99 USD
Sale price
$58.99 USD
Unit price
per
Sale
Sold out
[𝐖𝐨𝐧'𝐭 𝐋𝐞𝐚𝐤 & 𝐓𝐨𝐩 𝐅𝐢𝐥𝐥𝐢𝐧𝐠] The user-friendly wide top-fill opening design allows you to add water from the top, or you can remove the tank and fill it separately, whichever is easier for you, and avoid spills. Say goodbye to problems of water leaks and spills, potentially damaging furniture or floors.

[𝐋𝐚𝐫𝐠𝐞 𝐜𝐚𝐩𝐚𝐜𝐢𝐭𝐲 & 𝐄𝐬𝐬𝐞𝐧𝐭𝐢𝐚𝐥 𝐎𝐢𝐥 𝐃𝐢𝐟𝐟𝐮𝐬𝐞𝐫] The cool mist humidifier features a large capacity of 4.5 liters, provides relief in rooms as large as 354 square feet, and lasts for 60 hours on low setting, after being filled with water. It also works as a diffuser to provide a soothing aroma (from your added essential oil) to make your room more relaxed, while you enjoy the cool mist, thereby doubling your experience.

[𝐄𝐚𝐬𝐲 𝐭𝐨 𝐂𝐥𝐞𝐚𝐧 & 𝐔𝐥𝐭𝐫𝐚 𝐐𝐮𝐢𝐞𝐭] The water tank's 6-inch opening makes cleaning easy, and the atomizing parts can be disassembled in just seconds, allowing for a thorough cleaning, eliminating the hidden fouling, making it easy to keep clean and fresh. With low noise levels which never exceed 28dB, there is almost no sound when the unit is operating. Don't worry about it disturbing you at night or interrupting meetings.

[𝐓𝐡𝐫𝐞𝐞-𝐬𝐩𝐞𝐞𝐝 𝐅𝐮𝐧𝐜𝐭𝐢𝐨𝐧 & 𝐀𝐮𝐭𝐨 𝐎𝐟𝐟] This air humidifier offers three mist output modes, high, medium, and intermittent. The maximum mist output is 350 mL per hour. You can select an appropriate mist rate to maintain the desired humidity level. The humidifier will automatically shut down if it runs out of water, to prevent burning out when empty. It won't cause any trouble as you work, sleep, or relax.

[𝐌𝐮𝐥𝐭𝐢𝐩𝐥𝐞 𝐔𝐬𝐞𝐬 & 𝐋𝐢𝐟𝐞𝐭𝐢𝐦𝐞 𝐖𝐚𝐫𝐫𝐚𝐧𝐭𝐲]Vewior large humidifier is the best choice for a healthy addition. It helps you to maintain optimal humidity in your home year-round, to reduce cold symptoms and sinus problems and provides a natural, fresh, and healthy breathing environment for your family. We offer the assurance of a lifetime warranty. If you ever have any concerns about product issues, our customer support team is here to help.
After unboxing the package, please check if all the components are in place. You can find the power cord in the water tank.

When using the humidifier the first time, please wait for 5 seconds after the water gets into the inner humidification unit, then the mist comes out.

When adding water into the small insert on the top of the unit, please attention doesn't let water in the mist outlet. (Top Waterproof Nozzle is included)

If you want to disassemble the inner humidification unit, please read page 13 of the user manual or check the videos on the product page.

Please clean the humidification unit regularly to keep it clean and healthy.

When RH>65%, please turn off the humidifier to avoid too much humidity.
Share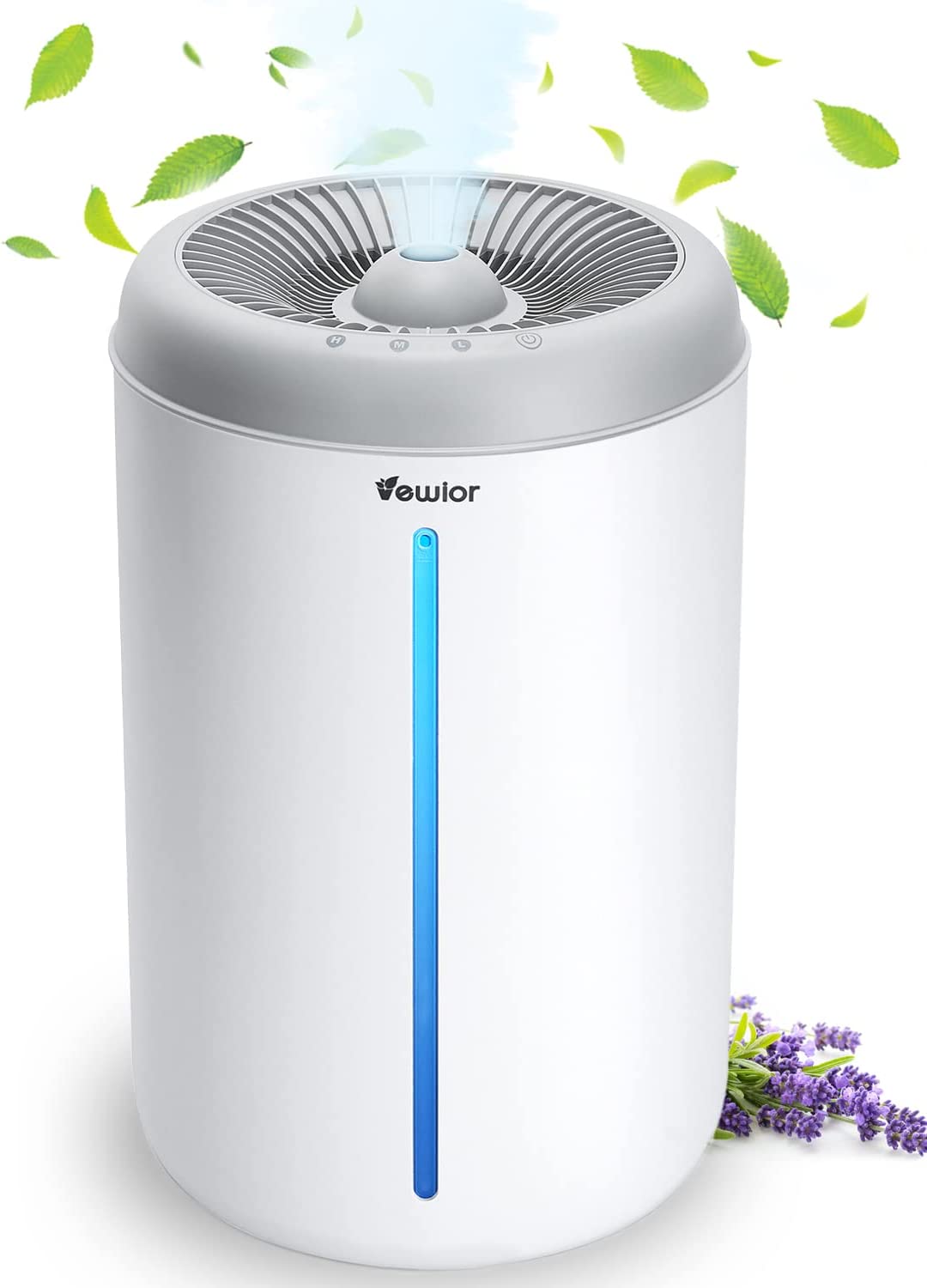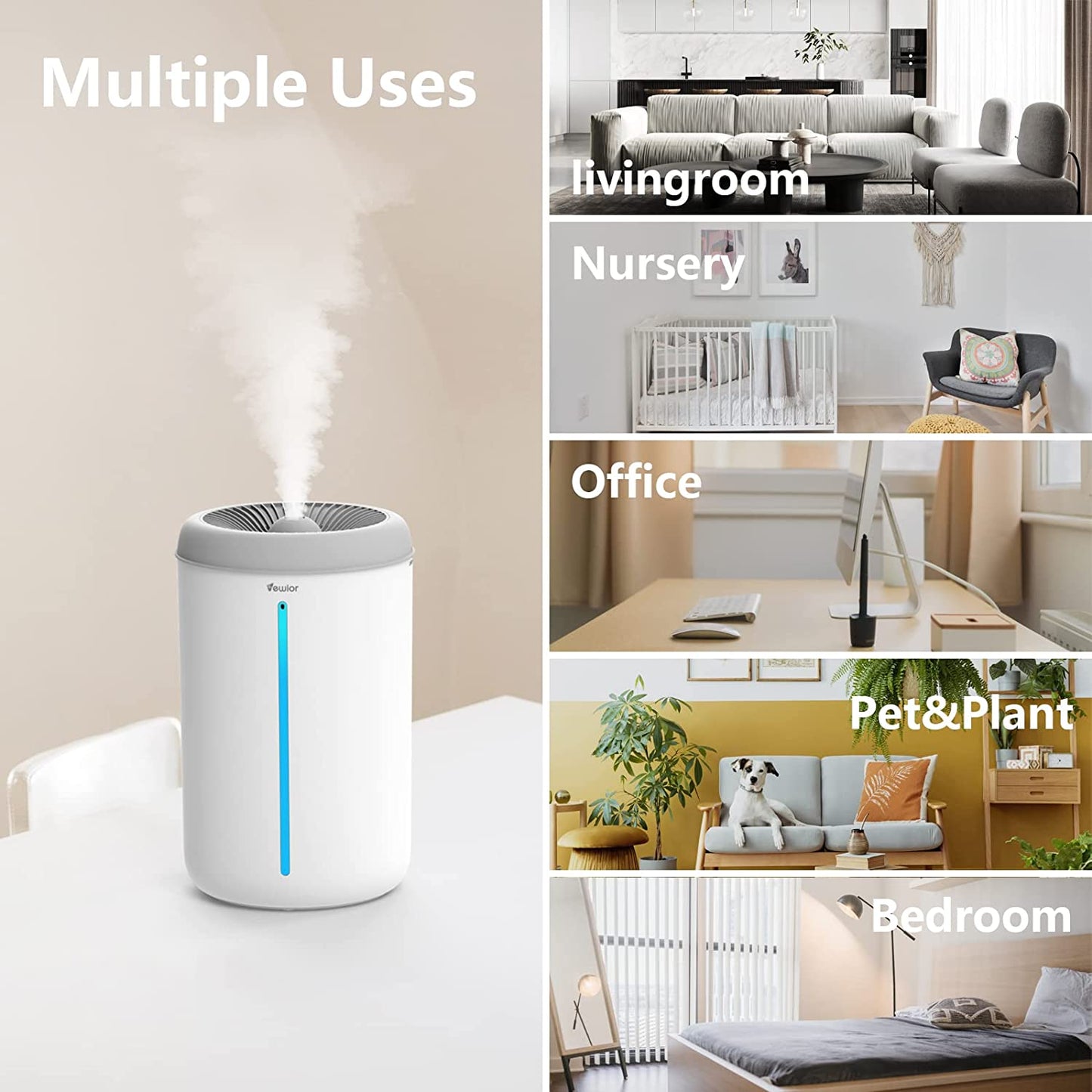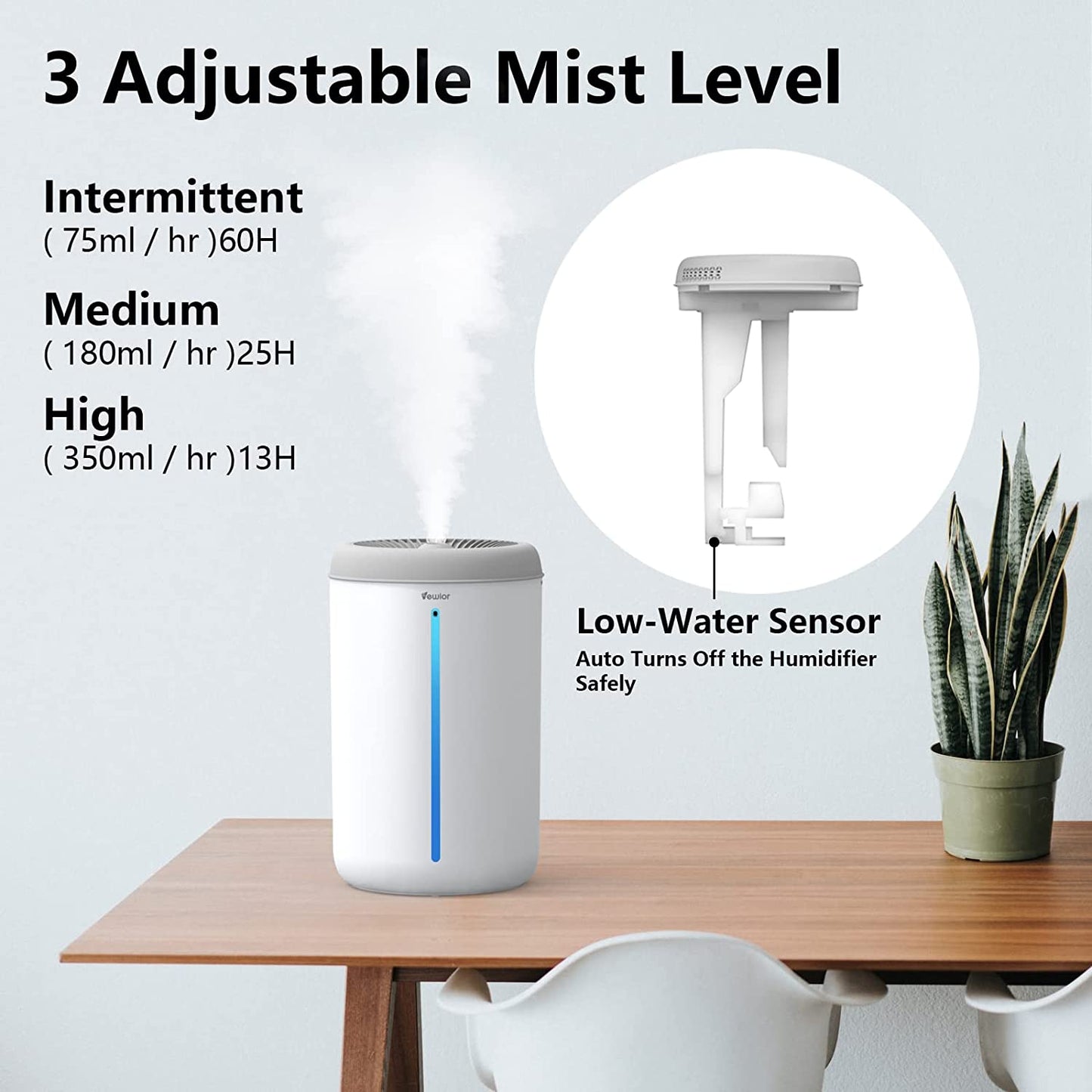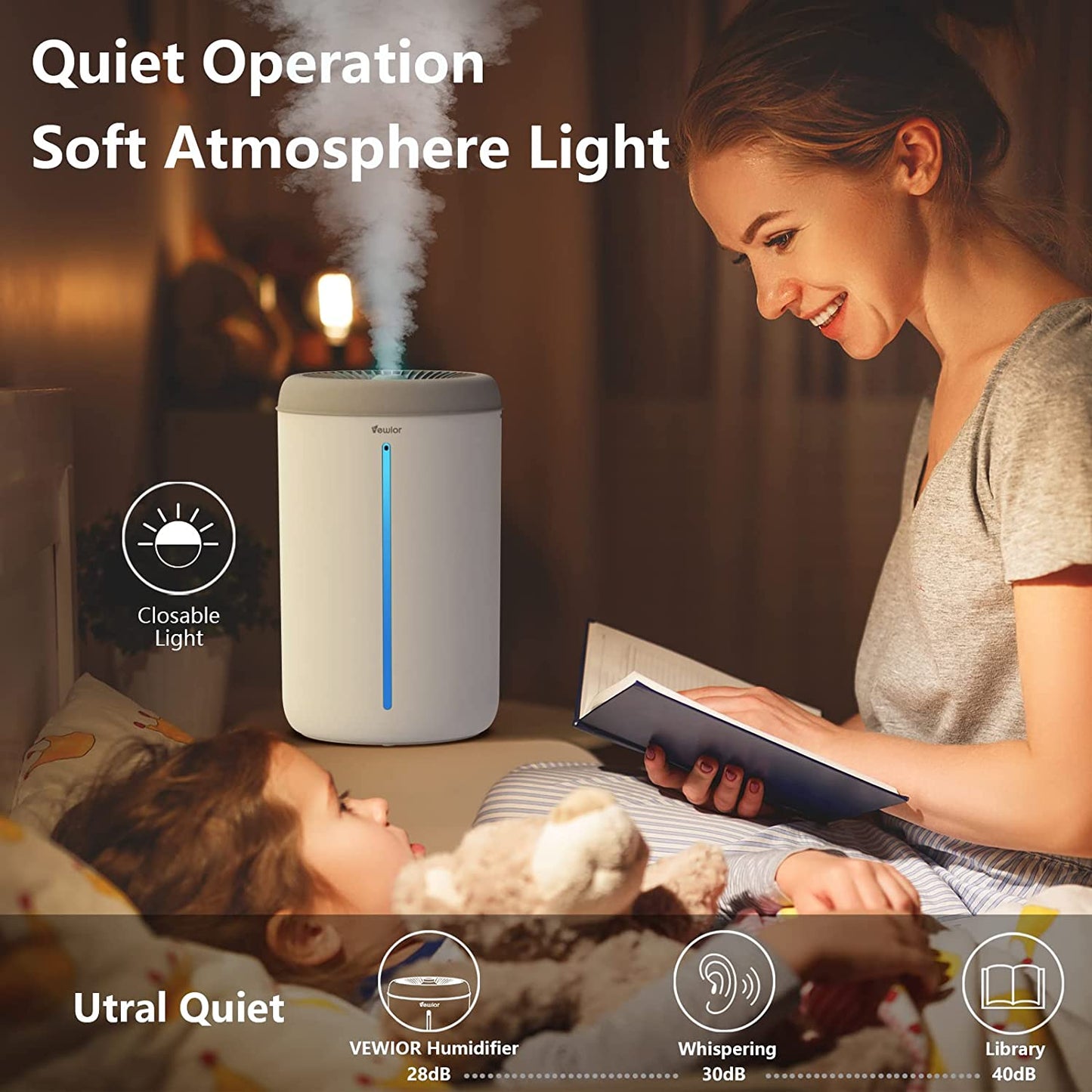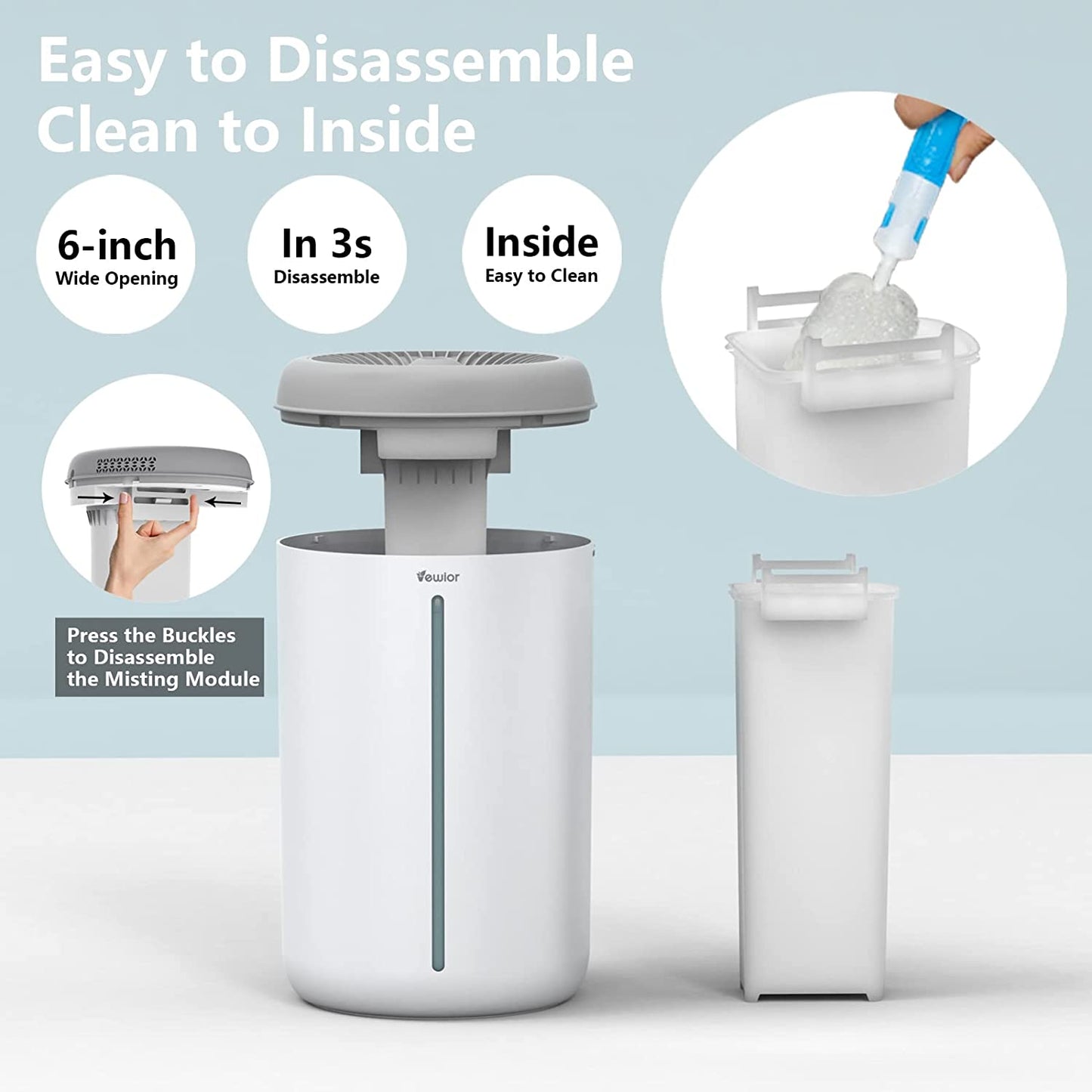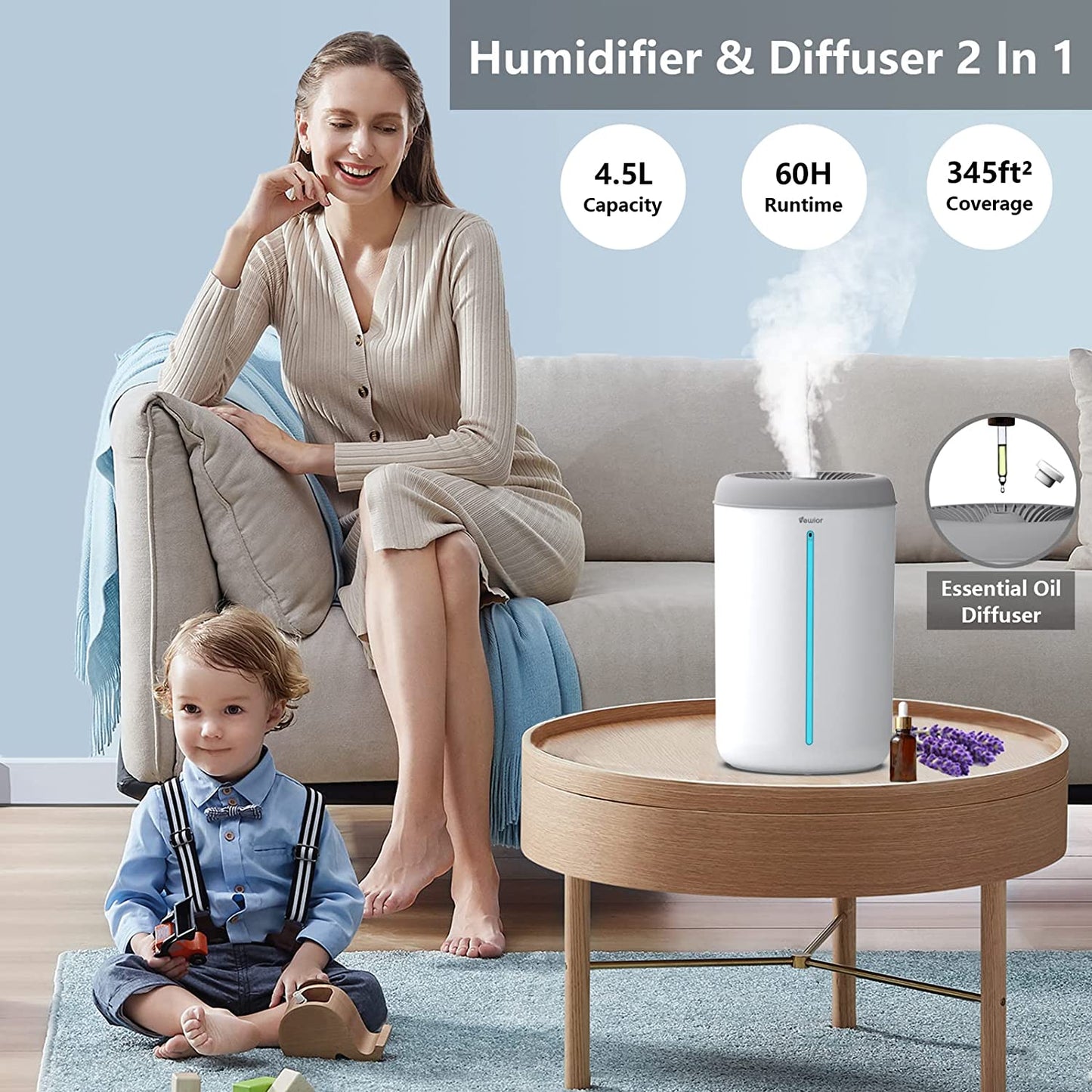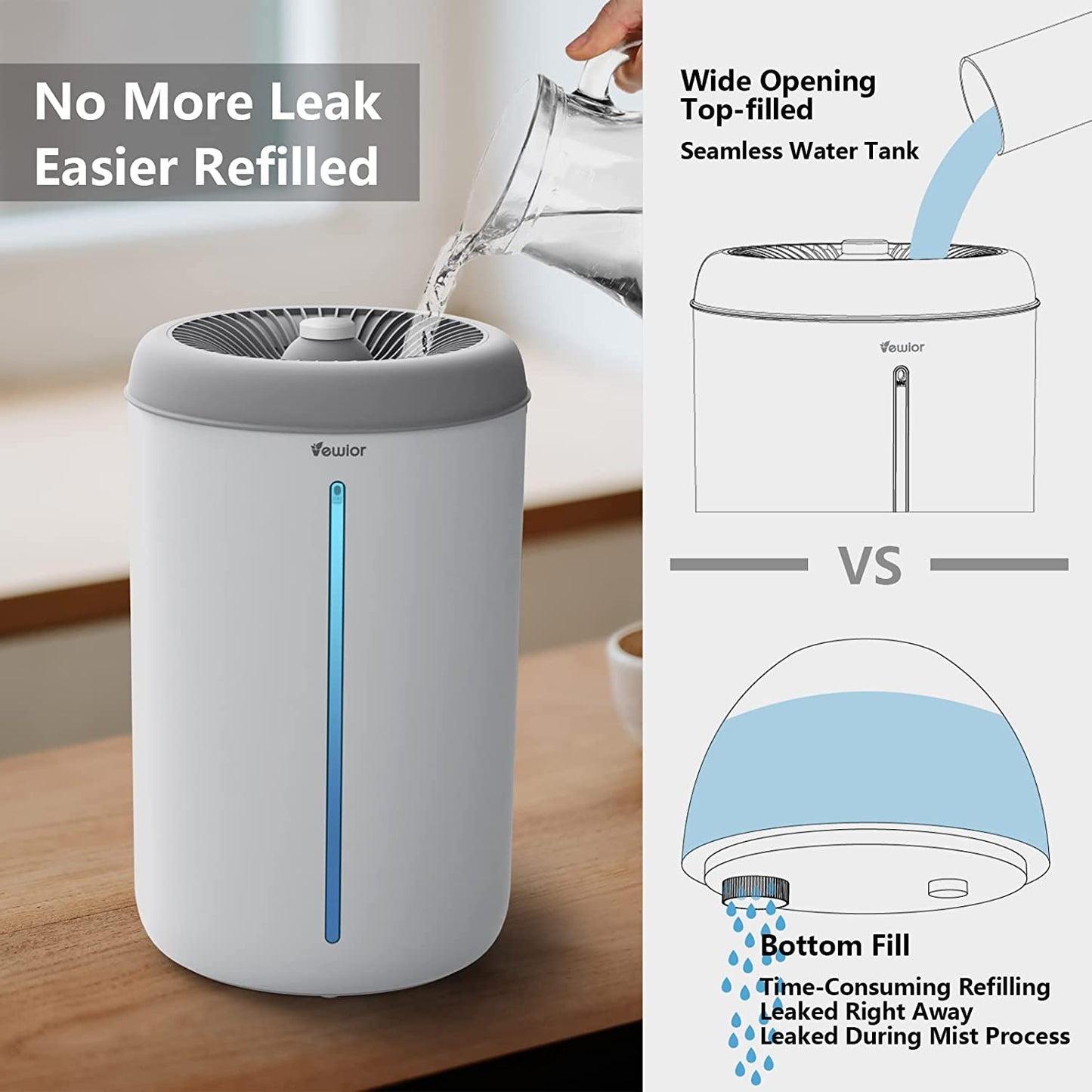 Second one in about 18 mo this.
The first one started Sparking at me when I plugged it in. Now this one just stopped working and will just blink blue and nothing else. I'm tired of spending this chunk of change for something that just stops working what can be done?
Amazing!
I love this humidifier! I've bought 2 of them I like them so much. They are quiet so you don't hear a thing during the night, East to clean with no hard spaces to get in to, and hold enough water to last from 7pm until 8 am. Also a nice night lite for the kids. I've bought a lot of humidifiers before and this is definitely the best.
Refill twice a day running constantly.
This humidifier is small, at last about half to 3/4 of a day running constantly. It runs very quietly. Filling it from the top is a little awkward and time-consuming and often leads to spills. The fastest and easiest way to fill is to take the entire top off and fill it about 3/4 of the way or so. The humidifier is effective and I notice a difference in my 500 sq ft house. I wish the plug cord was a bit longer.All in all I recommend this, it does the job well and I'm glad I have it..
Nice 4.5 liter humidifier
This is a nice capacity humidifier that last about 2-3 days between fill-ups depending on settings and length of on time. Easy to fill from the top makes for less mess. There is a built in night light that you can turn on and off. On lower speeds you can barely hear it running. It can be a little loud on high. Very easy to clean and should be done weekly. There is 3 mist levels so you can set it for your needs. Overall this humidifier is great and does not take a lot of room with the cylindrical design.
For me it's been great for 6+ months
See a lot of people having problems with this humidifier. I use it with my reptiles, and for me it's been perfect, so I'm looking to buy another. Maybe I got a good one ??