Humidifier for Bedroom Large Room - VEWIOR Top Fill Cool Mist Humidifiers for Baby Nursery, Plants, Home, 6.5L Ultrasonic Humidifier Diffuser No Leak, Easy to Clean, Super Quiet, Auto Shut Off
Regular price
$79.99 USD
Sale price
$65.99 USD
Unit price
per
Sale
Sold out
TOP-FILL HUMIDIFIER: VEWIOR cool mist humidifier has a top-fill design, no need to remove the top cover, just pour the water into the small insert at the top of the unit. The main control PCBA of the vaporizer humidifier is placed on the top, and the atomization area is isolated from the water tank, which solves the problem of water leakage. The large opening makes it easy to refill and clean the tank, filling it without disassembling the unit.

LONG-LASTING & AUTO SHUT-OFF: The air humidifier is designed with a large capacity water tank of 6.5L, which can cover a range of up to 592ft², delivering mist to every corner of the room. With 30-60 hours of continuous use, You can enjoy a whole night's sleep, which frees you from refilling water frequently. The top-fill humidifier has an automatic shut-off function that shuts off when the water runs out, preventing dry burns from damaging your equipment.

EASY TO DISASSEMBLE: All the structures of our whole house humidifier can be disassembled and cleaned. Press the button on both sides of the water tank, and the top cover can be opened, and the inner barrel can also be disassembled to thoroughly clean the water and stains and eliminate hidden dangers.

ADJUSTABLE MIST LEVELS: Our air humidifier can adjust the fog volume through the low, medium, and high settings, with just a touch with the flick of a power switch, and the mist output can be easily adjusted, effectively providing ideal coverage for large rooms, bedrooms, living rooms, nurseries, offices, dorm room, kids rooms, and more. Press and hold the power button for 1.5 seconds to turn off the night light, The room humidifier is perfect for your baby and a disturbance-free sleep at night.

MULTIPLE USES: VEWIOR ultrasonic humidifier can safely moisturize the dry air in the room, let you breathe easier when you have a stuffy nose, moisturize your skin, relieve sore throat, relieve allergies, perfect for you and your family, plants, pets, provide you with natural, fresh, healthy breathing environment.
Breathe better, sleep better and live better at home with the VEWIOR bedroom humidifiers
Share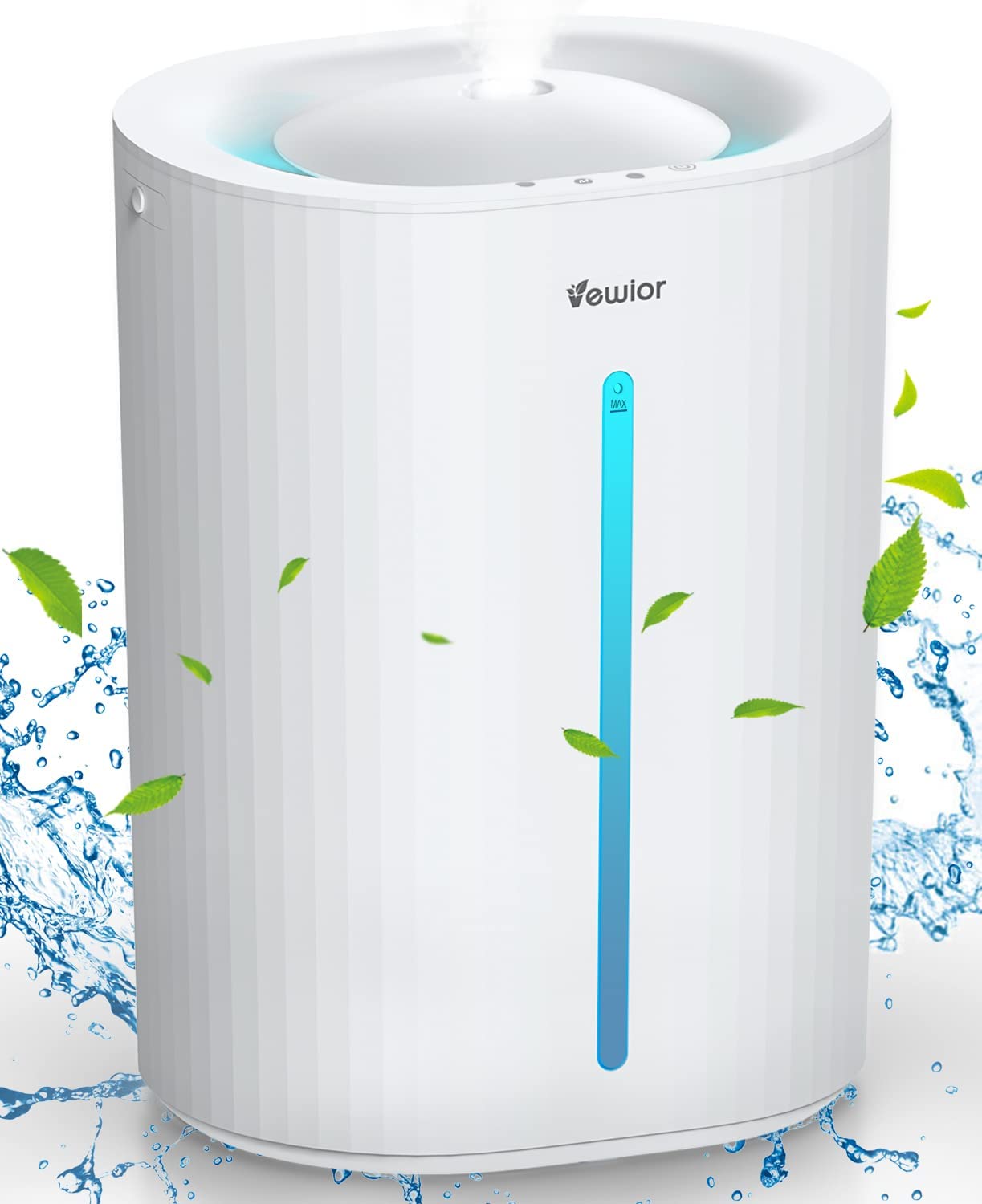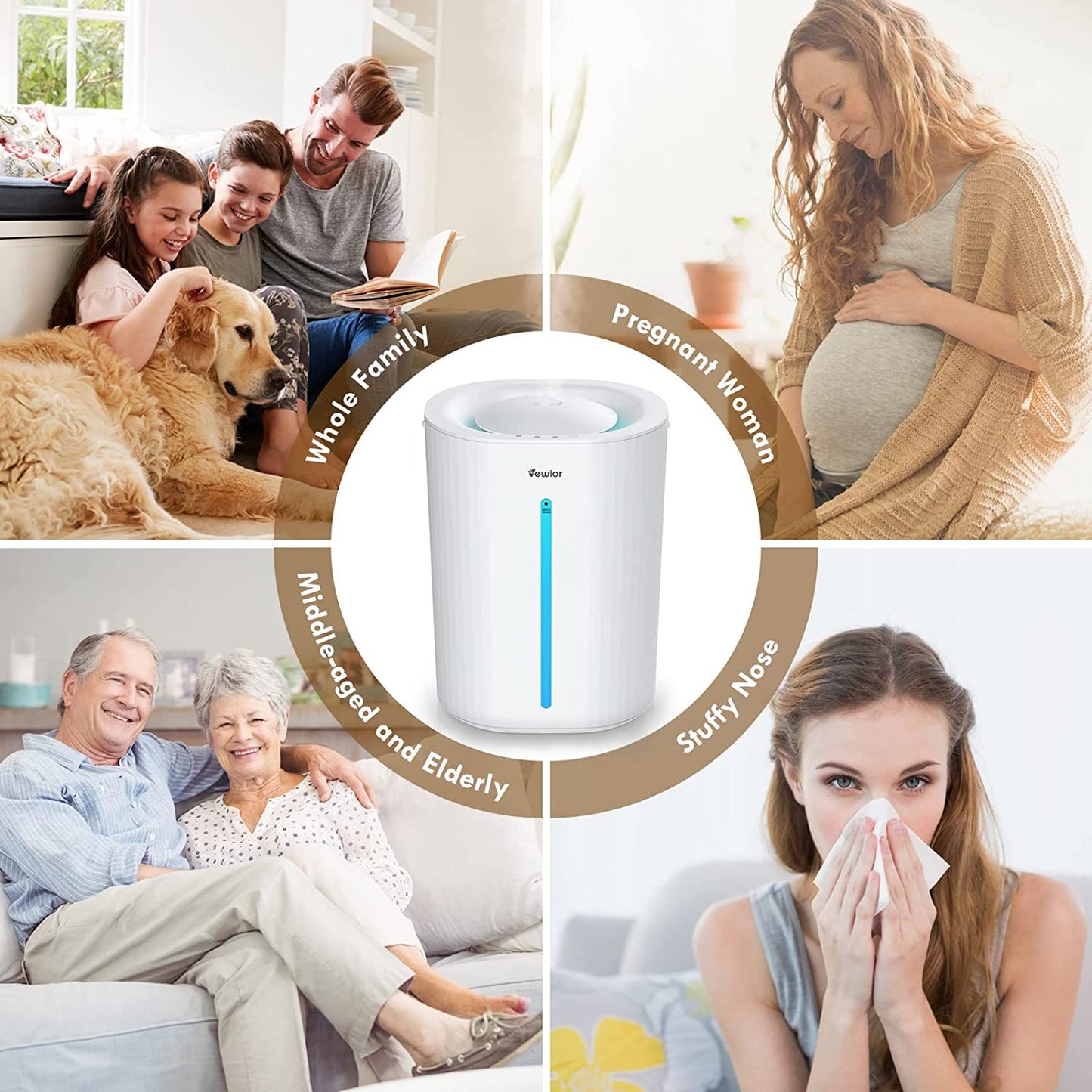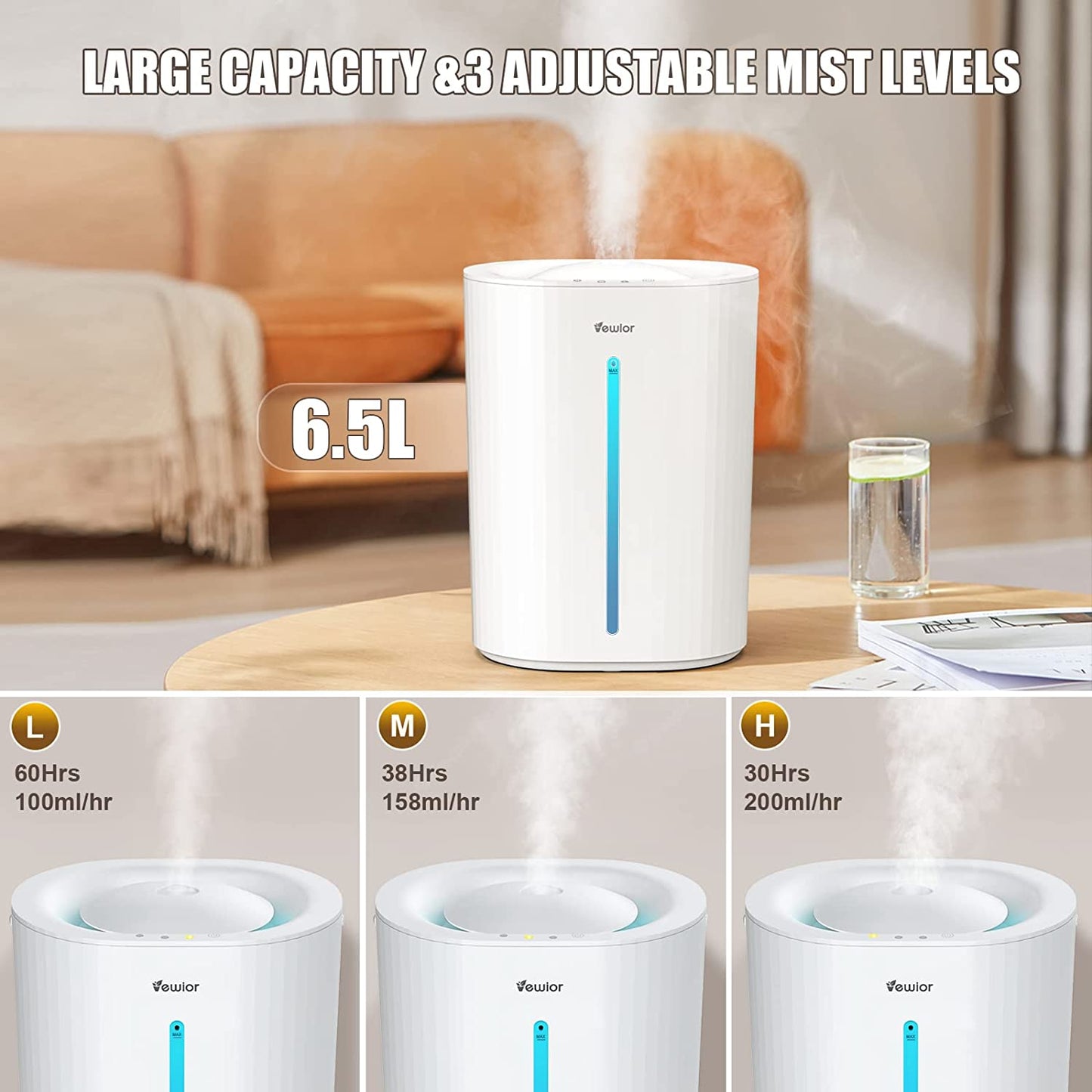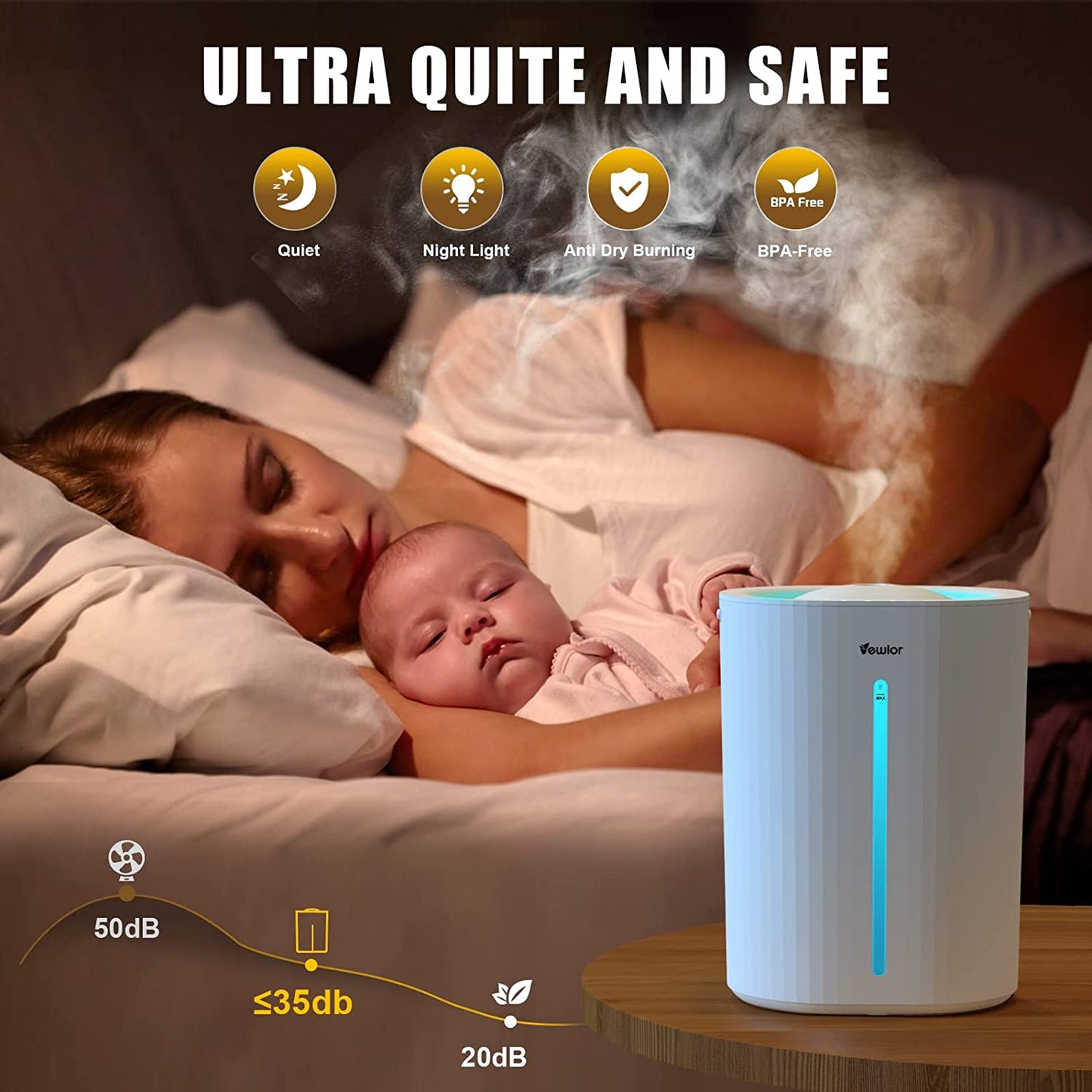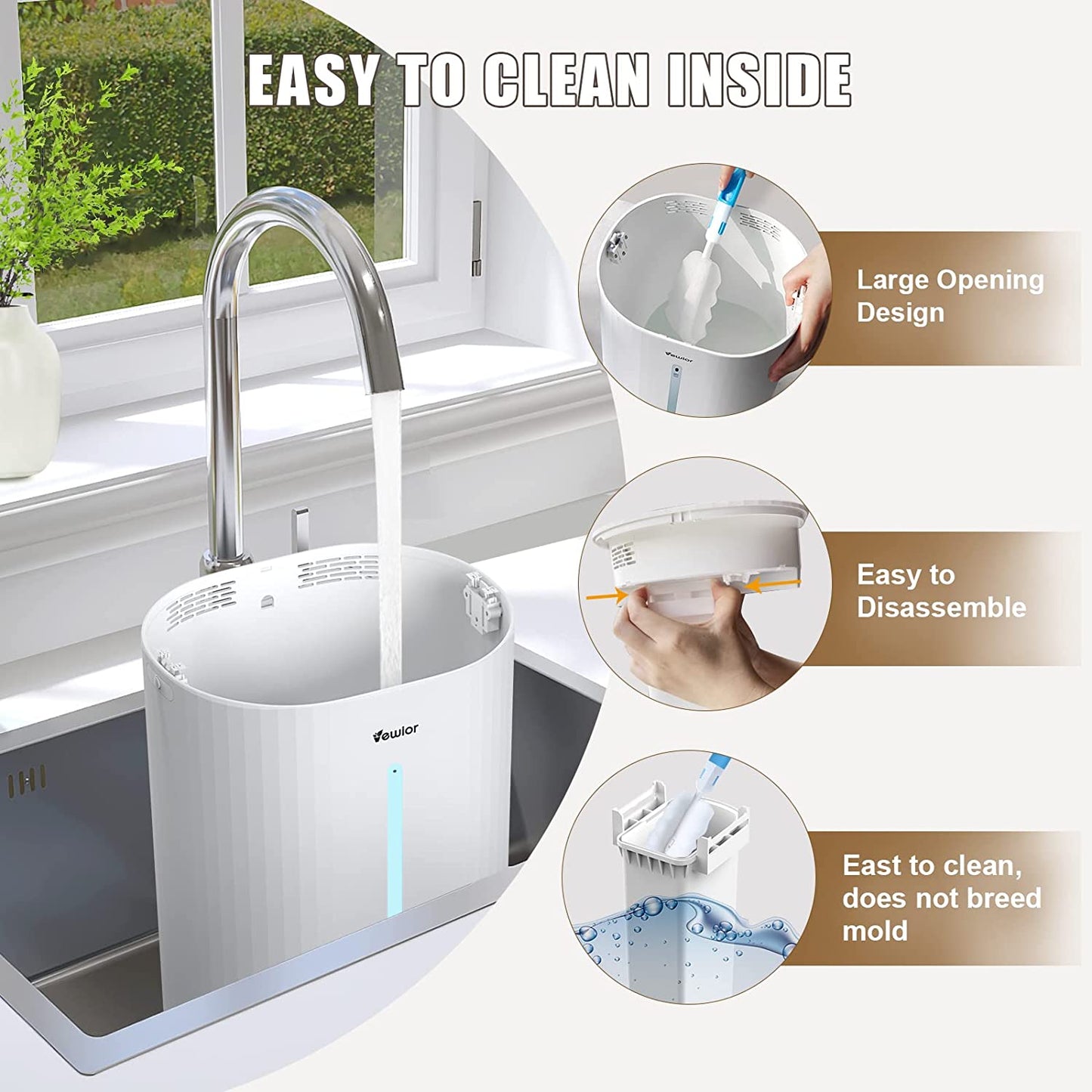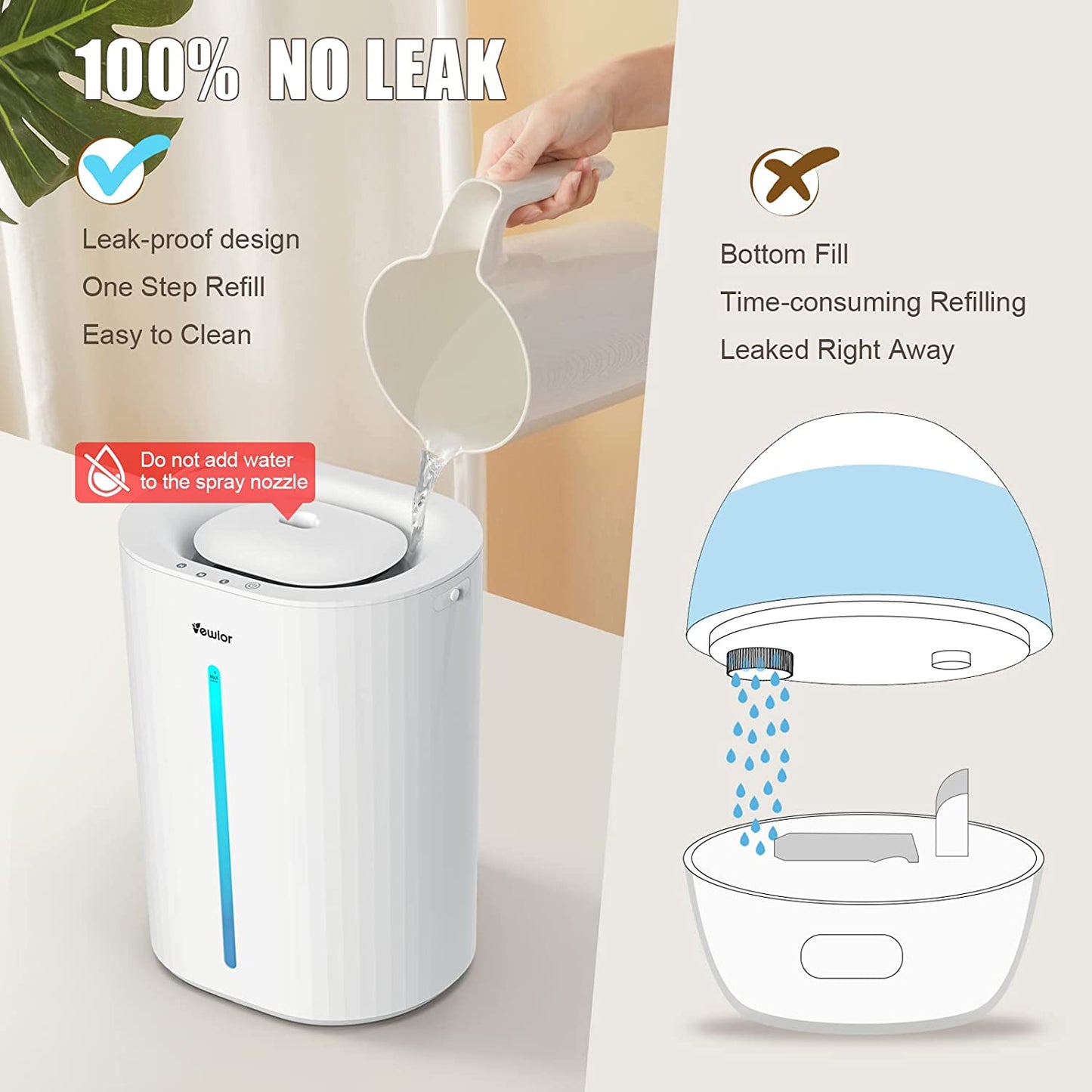 in stock
this machine so far is great!!!! Ordered another one hopefully they will last
Winter Shock Therapy!
Now I love the cold, always easier to warm up than cool down for me. But these Dry Virginia Winters bring a whole new issue. And while I do like the cold, im not a fan of the shock therapy this season brings as punishment for using any fabric covered sitting piece. These Humidifiers are large enough, and quick enough that I can protect myself from these unwanted electric shock demons and make it more comfortable inside. Even when one died inside a week, the support was beyond top notch and in less than 1 week I had a replacement in hand. Gotta add, they arent crazy massive either, but they hold way more than your standard Humidifier that takes the same standing space. Ive had them last 2-3 days on average before a refill. To me, thats epic. Less up and down means less electric demon spawning.
Noisy.
We purchased this humidifier for our living room. It works fine and we could tell a difference right away. However, it is loud. You hear a constant humming that I hope Ill get used to soon! I put a small towel under it but it didnt help much. Ill keep it because of the ease of use and benefits.
So far so good
Love the top fill! Perfect for larger rooms in the winter. This is currently saving my plants! I have a gas furnace and a very old house so this is also keeping me from shocking everything I touch!